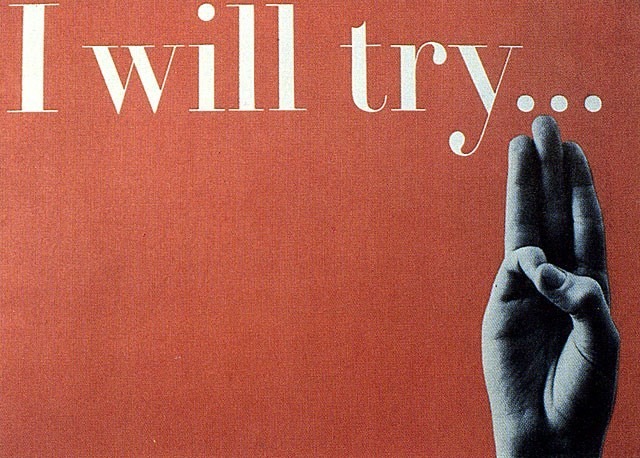 Why the cry to stop try?
There is an evangelical force to discourage someone who says "I will try"
In the self-help mall & motivation workshop circle try seems to be a taboo.
In an informal chat one person said he would try. Immediately jumped my trainer friend, "don't say try. You will not do" He did not stop there. He said with a sense of pride & achievement, in his session if a participant says 'try' he will collect spot fine immediately.
Is the word TRY so bad that one should consciously avoid??
Should it be fined because you are not fine with 'TRY'?
Out of curiosity I tried to refer dictionary to understand the word TRY.
I succeeded in my try to know the meaning of TRY.
According Webster dictionary TRY means
to make an effort to do something: to attempt to accomplish or complete something
to do or use (something) in order to see if it works or will be successful
to do or use (something) in order to find out if you like it
Is making an effort to do something so bad?
Of course not.
Then why the cry to stop saying try?
Because try also come to mean "I am not sure about the gain, let me take a chance if everything is ok"
Try comes to mean euphemistically I may not do
Try comes to mean I am not certain; I don't promise.
Try comes to mean a non-committal response.
Therefore in order to move away from non-committal response, half- hearted response it is suggested to replace try with the word 'do' or 'attempt'
Perfect.
Now the issue   what has been suggested based on context is now seen as a dictum of sacred text.
The moment someone says "let me try" immediately jumps the workshop junkie to denounce the use of try
Though someone says "let me try" it can be appropriate with sincerest of intention and commitment.
For example someone tries to open a lid unsuccessfully; a friend can come & say 'let me try'
Therefore it is important to take into account the context & tone in which try is uttered.
Next time when you go to a garment showroom and look for readymade don't denounce when the salesperson says try this size.
TRY is not a bad word to resist.
You are free to use the word try and also you can try alternate words to try
TRY according to me is an acronym
TRY means Total Responsibility Yours
He said, "I am trying"
She said, "Yes you are very trying" 
http://vrnlp.com/wp-content/uploads/2016/04/IWillTry.jpg
458
640
vrnlp
http://www.vrnlp.com/wp-content/uploads/2015/07/VRNLP_logo.jpg
vrnlp
2016-04-07 05:51:01
2016-05-19 04:19:53
why the cry to stop try ?