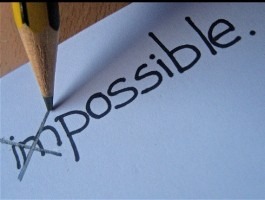 The much abused word in motivational messages or thoughts is
IMPOSSIBLE.
Often repeated statement is
"NOTHING IS IMPOSSIBLE".
"IMpossible – I(a) M POSSIBLE"
This is repeated or stated as an institutionalized slogan than an inspired truth;
Feeling thrilled over a mere intellectual acknowledgement of 'nothing is impossible' and repeating  it like a parrot seems a bit odd; sometimes irritating too.
There seems to be a delusion over this word;
and a feeling of guilt is inadvertently planted in mind's of people that
to say impossible is wrong, nay a crime.
This is far from truth.
It is not wrong to acknowledge and accept a few as impossible.
It is not wrong to admit something is impossible according to you.
There is no need for everything to become possible in your life.
Even what you want to have and that seems impossible at that time, it is ok to acknowledge and carefully weigh the ways of making it happen than rushing to get hyped(deluded) by any motivational methods .
I don't accept NOTHING IS IMPOSSIBLE.
Nothing is possible
I am doing NOTHING many a times.
http://vrnlp.com/wp-content/uploads/2014/02/possible.jpg
200
265
vrnlp
http://www.vrnlp.com/wp-content/uploads/2015/07/VRNLP_logo.jpg
vrnlp
2014-02-12 12:36:58
2016-05-19 07:21:00
IMPOSSIBLE is POSSIBLE